Villa Request Form
To receive a discounted rate (unpublished rates) for our premium select Villas at Villa La Estancia, please complete the form below.
We'll be back to you shortly with some great Villa choices!
Testimonials
Amazing stay in Beautiful Villa!
We had a wonderful time in Villa 1205. It had everything we needed to relax and enjoy ourselves. It was so easy to book and Don provided all the information we needed including helping us with transportation. Villa la Estancia was beautiful, it is kept sparkling clean and you can see everyone takes pride in the resort. We ate at restaurants on all three properties and enjoyed them greatly. I cannot speak highly enough about how welcoming the staff were. They made you feel special and really made our vacation a stand out.
Kelly M.
---
Fantastic Experience
Don was wonderful to work with and the villa was beautiful. It was well appointed, spacious, and in a fantastic location. The staff at the resort could not have been nicer. It all made for a wonderful trip and we will definitely return!
Kelly G.
April 2018
---
Beautiful Villa 1205 Highest Recommendations!!
From the moment we booked on VRBO, our communications with the owner Don was fantastic. He made the booking process simple and made suggestions from transportation to dining that were all excellent. He was even able to accommodate an earlier check in and later check out. The unit is conveniently located to the lobby, fitness center, pool and beach with a great view of land's end. Unit 1205 had everything included from pots and pans, to shampoo and towels, a full washer and dryer, and a BBQ on the patio with utensils. It even has a solid Wi-Fi.
Upon arrival, we stepped out of our taxi and were greeted by La Estancia staff who treated us like family, and they unloaded our luggage and Costco purchases (our taxi let us shop on the way from airport to VLE) and delivered all to our suite before we finished lunch on the beach. The bellmen not only have a special cart that can take loosely packed groceries from Costco but they also put all our groceries away in the refrigerator and pantry.
The check in process was seamless and the concierges in the lobby were helpful for everything from dinner reservations to activities recommendations. We did not want to do the time share presentation for discounted activities and meals and there was no pressure at all.
The pool staff (especially Tere and Aura) and waiters (Maria) are super friendly and they hustle for you and hopefully more folks than us appreciate them and give them tips. There is also a convenience store and deli right on the property, in addition to a variety of restaurants on the 3 sister properties.
Overall, we give Unit 1205, owner Don and La Estancia the highest recommendations. This was a family vacation for Spring Break for us, and we are already planning to return without the kids, and another friend has already booked Don's unit 1205.
Thank you to Don – We will be back home soon and often!
Terry and Lisa M. and family
---
Perfect stay for the whole family
Great location and view. Thank you!–NORA
---
This Villa is Beautiful!
Great views, Nice furnishings, Free Movies/NetFlix, Private High Speed internet, BBQ on the terrace and so much more. We loved it and the owners service is excellent too. Highly recommend this Villa.–TINA S.  A
---
Wonderful property and the view is terrific!
★ ★ ★ ★ ★
We loved our stay at Villa Estancia! The staff is great and the pool is awesome! The condo was very spacious and perfect for our family of 5. The weather was incredibly hot in July and we had several high tide days so we couldn't lounge on the beach but overall we loved it and would come back again a different time of year.—Shelley S. and Family!
---
Location and condo were awesome!
Couldn't have found a better place, and the price was great. Don always responded to my questions in a timely manner and was very helpful. Would definitely stay here again, and I would highly recommend it because everything was perfect.—Susana C.
---
Excellent Villa with Lots of Room!!
We had an exceptional stay in Villa #1205, great location, very spacious, our kids thought they were in heaven with their own Villa #B! Don was great from the beginning until the days before our departure with all the information he sent us with things to do, places to eat, and how to get from point A to point B. The enormous covered patio was a great place to enjoy our morning coffee and eat our dinner that we cooked on the Weber gas grill! The pools were great and just steps away from the Villa along with the beach access where there are several chaise lounge chairs and umbrellas for all of us to use! The staff at the property was always friendly and helpful, you have access to all three properties which is nice and their is a market just across the driveway which was pretty inexpensive for any snacks or necessities that you may have forgotten. The food at all three properties was good, just a bit pricey. We got suckered in to a timeshare presentation, but they gave us several free drink coupons, breakfast and heavy discounts for excursions! Overall is was a great trip and we will be returning to CABO!!!!
---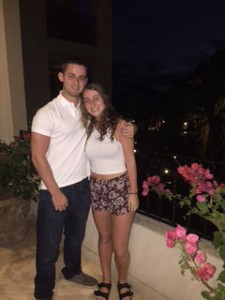 We just love Cabo! Your place was fantastic! My husband found a quiet place at the pool every day. My daughter and I love the beach! We always found my husband taking a siesta in the late afternoon on the balcony! My daughter caught a fish too! Thanks again! Joan
---
I just wanted to tell me how much we enjoyed staying at your villa. We had a great trip!! You were the best to work with!
Thanks again!
Caroline Figueroa
---
Beautiful Resort, Gorgeous Condo
★ ★ ★ ★ ★
Don was so easy to work with. He answered my numerous questions. The resort is better then I thought it would be. The condo is very nice. Everything was working great. The location of this condo is perfect. If you go out to get coffee it is a straight shot- no steps to go up or down. If you go out to the pool or beach, you have to go down one flight of steps. Super easy and close to everything. Service was awesome. We have already booked again to come back with our kids.
---
Mar 4, 2016 Had a great trip! We love Cabo! The Villa was great, our favorite thing to do was have breakfast on the patio. Thank you for hosting us. We left you a bottle wine and some children sand toys, for your next guests with kids. Can't wait to go back after Christmas this year too. – Kelli
---
Mar 2, 2016 We had a blast! Hi Don, We had a blast! Everything was great and loved your place, thanks so much!"- Chad Tackett  
---
Aug 4, 2015 Best deals I've had! This villa was as beautiful as expected. We come here every year and this was the first time staying at Don's villa #1205. The proximity of this particular villa worked phenomenally for us. The WIFI signal was functional even from the pool and we could keep our eyes on the baby while she slept and we soaked. Don was just amazing to deal with on many levels. He's pleasant, responsive, patient and informative. Some of the info he provided beats my deals hands down and I've been to Cabo many times and thought I had the best deals. I appreciated the simplicity of overall experience and would repeat again and again. Thank You!!! –Joseph
---
Feb 12, 2015 Great Trip Thank you so much for use of your place!!!! It is beautiful and we loved everything. We had a great trip and we will definitely be booking with you again. Thank you. –Katie
---
Jan 3, 2015 Excellent Value Great Property! We are here now and this property is amazing. Villa La Estancia is part of a complex of three resorts. As a guest of Villa La Estancia, you can use the other two properties on either side but Estancia is the nicest and by far the quietest. Villa La Palmar is the busiest neighborning resort, with the most activities but also a useful market. Guest at the neighboring resort cannot however, use Villa La Estancia grounds. Rooms are very spacious and well appointed. We probably spent more time in our rooms than out. All the kitchen utensils you could want. Dishwasher (bring your own dishsoap!) and stackable washer and dryer. A pantry that has a collection of odds and ends (including several alcoholic bottles) from previous guests. The very deep patio gets afternoon sun so it's great to just lounge out on the longers and soak up afternoon sun in the privacy of your own balcony. The beach also has a roped off area just for Estancia guests and part of the water is also roped off to prevent motorized boats or other water equipment form potentially hitting a swimmer. Don Reeves (owner) is very easy to work with. I highly recommend it. –The Williams Family
---
Dec 20, 2014 Amazing Vacation I don't often do reviews but felt compelled to let people know how nice this condo is. We enjoyed everything about the resort, but the condo itself was outstanding. It was clean with nice furnishings, and very nice amenities. The patio was amazing with the views and we used the grill a couple of times for grilling shrimp for lunch. Being in Cabo for Christmas and staying at such a nice condo was our Christmas gift. Don you are one lucky man to be able to use this condo anytime you want. We will be back in touch with you soon about next Christmas. –Brett
---
July 1, 2014 Beautiful Second time renting this unit. Very spacious and clean. The resort is beautiful and free from noise and riff-raff. Don is very easy to deal with during the booking process. Very responsive. We will be back! –GCN 
---
Jan 16, 2014 A little taste of Heaven on Earth!  This trip was by far the best time our family has ever had! We traveled with our three kids 10,8,and 1. Each of them had the time of their lives. From the beautiful beach, amazing adult and kiddie pools, kids painting activities, and endless amounts of delicious food; we can not choose our favorite part of the trip.We did not have one meal the entire time we were there that we were disappointed in. The resort grounds are groomed to perfection daily. Don (the owner) was amazing to work with. He made the entire trip flawless. All the details were handled from the gentleman waiting for us at the airport as soon as we picked up our bags, getting us to the resort, offering ideas for activities, and finally arranging the return shuttle back to the airport.We didn't have a worry in the world. The resort has EVERYTHING you need all with in walking distance. The onsite market is filled with TONS of snacks and anything else you could possibly ever need. (sun screen, pool toys, swimwear & bathing products) We WILL be back. – April S.
---
Dec 19, 2012 Great location "Our family of 5 stayed here for a scuba and snorkeling trip. Nice beach, 5 minute taxi ride to town and the condo was very nice. The owner, Don, was very accommodating and I would definitely use the airport shuttle service he recommends.The grounds and pool area is well maintained and very laid back, we enjoyed the poolside restaurant but ended up eating most breakfasts at the market and dinners in town or next door at Villa del Palmar. Overall this was a great place for a low key, classy, family vacation. We will definitely stay here again next time we visit Cabo." –David
---
Sep 19, 2012 No Rating Beautiful Villa #1205 "Just a quick note to let you know how much we enjoyed our trip to Cabo. We all agreed that we would love to go back using your villa again. As you had mentioned there was plenty to keep every one busy. We golfed at the Country Club 3 times and the girls enjoyed many nights downtown! We also managed to find time to jet ski and even got everyone out on ATV's (we can't wait to do that again)! Overall we really had a great time and Beautiful Villa #1205 made the trip perfect. Thank you again for all your information on Cabo and we look forward to our next stay in Cabo at Beautiful Villa #1205 –Melinda
---
Sep 19, 2012 Top Notch "I just wanted to thank you for all that you did to make our recent vacation a wonderful experience. The transportation between the resort and the airport was a great thing and the facilities of the resort and our condominium in particular were top notch. It has been a pleasure working with you and I hope we soon have the opportunity to repeat." -Â Joe
---
Sep 18, 2012 Great Vacation at Villa La Estancia – "Just wanted to let you know we had a great vacation at Villa La Estancia. The weather was perfect and the condo was fabulous – we would definitely love to come back. Our youngest said it was his favorite "hotel" ever! Thanks again for renting to us!" –Suzanne