Welcome to
Villa La Estancia


Best Choice Villas!

The spectacular ocean-front complex of Villa La Estancia fronts Mendano Beach at Lands End in beautiful Cabo San Lucas, Mexico. Villa La Estancia is your home by the sea featuring privately owned 5 Star Resort accommodations and award winning amenities. Convenient access to down town Cabo! Come let our Cabo Ocean Villas staff assist you with this exclusive resort experience and Cabos legendary adventure destination.
---
Villa Request Form
To receive a discounted rate (unpublished rates) for our premium select Villas at Villa La Estancia, please complete the form below.
We'll be back to you shortly with some great Villa choices!
Ocean Front
Premium Ocean View
Penthouses
Direct Ocean View
Infinity Ocean View
Panoramic Ocean View
---
Testimonials
Feb 12, 2015 Great Trip
Thank you so much for use of your place!!!! It is beautiful and we loved everything. We had a great trip and we will definitely be booking with you again. Thank you. –Katie
July 1, 2014 Beautiful
Second time renting this unit. Very spacious and clean. The resort is beautiful and free from noise and riff-raff. Don is very easy to deal with during the booking process. Very responsive. We will be back! -GCN
Sep 19, 2012 Top Notch
I just wanted to thank you for all that you did to make our recent vacation a wonderful experience. The transportation between the resort and the airport was a great thing and the facilities of the resort and our condominium in particular were top notch. It has been a pleasure working with you and I hope we soon have the opportunity to repeat. – Joe
Resort Amenities
Take a deep breath, then be prepared for Villa La Estancia to take your breath away with its impressive array of stylish amenities. At Villa La Estancia, surround yourself with the pleasures of paradise, these pleasures extend far beyond the luxuries of your secluded Villa right down to Medano Beach and the sapphire blue water. Everything you desire is right at your fingertips enjoy an environment that is relaxed and sophisticated.
Click Here or on the photo to learn and see more!
Activities
Villa La Estancia is perfect for guests who want to be close to all the excitement of Mexico's top vacation destination.
This spectacular resort sits right on the main beach in Cabo and all of the water sport activities are right outside your door!
Popular things to do include; Golf, Fishing, Group Tours, Sunset Cruises, Parasailing, Wave Runners, Snorkeling, Shopping, Dining and Nightlife.
Click Here or on the photo to learn and see more!
Resort & Villas Photo Gallery
Villa La Estancia is on Mexico's beautiful Baja peninsula and is one of the most stunning places on earth--perfect climate, crystal blue water--no wonder it is such a popular vacation destination. Whether you choose to relax by the ocean or enjoy the abundant recreation, cabooceanvillas.com is ready to provide you with accommodations as stunning as the surroundings. Enjoy a close up look at this amazing Resort and the beautiful Villas. The heated pools, convenient beach access, lush landscaping and personal service are all captured in this attractive Photo Gallery!
Click Here or on the photo to learn and see more!
Features & Benefits
The Cabo Ocean Villas staff offers close personal service to make your trip convenient and comfortable. Villa La Estancia offers you Five Star luxury and service. The resort is on the main beach in Cabo and is a 5 minute drive to the center of downtown Cabo San Lucas! There are water taxis that will be in front of the resort to take you anywhere you want to go in minutes, including to any activities, the harbor for restaurants or faster walking access to downtown Cabo. Full amenities include: beachfront swimming pools, two restaurant / bars, exclusive European Spa, fitness club, tennis courts, entertainment, and much more. World class activities in Cabo include Golf, Fishing, parasailing, boat sunset tours, snorkeling and dining. When you place your reservation with our Cabo Ocean Villas staff you are guided through a vacation experience that is sure to exceed your expectations!
---
About Cabo Ocean Villas
Cabo Ocean Villas is dedicated to provide first class luxury vacations to our guests at our premier resort Villa La Estancia, with personal service you would expect direct from the owner. Our guests will feel secure with close communications and with the knowledge they need to relax and enjoy a vacation of a lifetime in Cabo San Lucas. We choose Villa La Estancia as our own home since this is the only private ownership luxury 5 Star resort on the main beach in Cabo San Lucas. It has the best amenities and views available on the main beach. The construction is beautiful, pools and beaches are the best and the service and dining are amazing. Cabo Ocean Villas has partnered with only the finest selection of Villas in the resort and our guests satisfaction is guaranteed. We have enjoyed ownership of our beautiful Villa at Villa La Estancia since the resort opened and when you make your reservation with Cabo Ocean Villas we make it our mission to serve our guests so that they can enjoy their own Home by the Sea with a special touch of service. Allow us to welcome you to Beautiful Cabo San Lucas.
CABO OCEAN VILLAS MISSION STATEMENT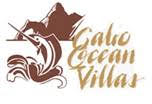 "To Fully serve and satisfy all guests with luxury accomodations and personalized services for an unforgettable vacation experience that exceeds our guests expectations!"